Support Our Troops Supply Drive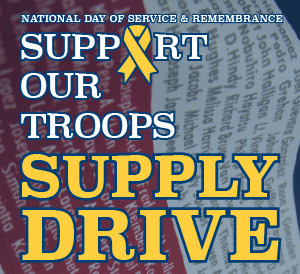 Join Volunteer O'Fallon as we collect personal care and snack items in an effort to support the men and women serving overseas. All items collected through the Support Our Troops Supply Drive will be packaged and shipped to our troops through the help of H.E.R.O.E.S. Care and monetary donations.
For more information on how to register as a collection site, contact Volunteer Services at volunteer@ofallon.mo.us or 636-379-5417.
August 8 – September 8, 2023
Care package items most often requested by the troops, include:
Personal Care

baby powder/wipes
eye drops
Chap Stick
tissues
hand sanitizer
sunscreen
shampoo and conditioner
bath soap/body wash
deodorant
body lotion
emery boards
Q-tips
women's hygiene products
antibiotic ointment
cough drops
disposable razors
hydrocortisone cream

Snacks

protein/energy bars
powdered drink mix (Crystal Light, Gatorade, etc.)
tuna/chicken in a pouch
gum
candy (not chocolate)
suckers/lollipops
peanuts/mixed nuts
trail mix
dried fruit/raisins
beef jerky
Slim Jims
Vienna sausages

Miscellaneous items

puzzle/crossword books
batteries
hand-held electronic games
markers (permanent, hi-lite)
small flashlights
Please note: Small sizes work best! Select items that will fit in a shirt pocket. No aerosol products can be shipped! No 'flip top' products that might leak. "Thank you" notes and cards are appreciated by the troops.
---
Stamp of Support
Your donation of $25 will pay the shipping costs for a priority mail flat rate box of supplies requested by our troops serving overseas. Please make checks payable to "H.E.R.O.E.S. Care," the non-profit organization responsible for shipping of items overseas to our troops.
---
Supply Collection Sites
O'Fallon Municipal Centre (City Hall), 100 North Main Street (63366)
O'Fallon Justice Center, 1019 Bryan Road (63368)
Renaud Center, 2650 Tri Sports Circle (63368)
---
Volunteer Services
Get experience and make new friends helping with City of O'Fallon events as a volunteer! Interested in learning more? Please visit the Volunteer Services page or call 636-379-5417.