About O'Fallon
O'Fallon consistently ranks as one of America's Best Places to Live, (Money 2008-2019). But did you know that O'Fallon, along with and the entire region, is a great place to do business, too? O'Fallon, the State of Missouri and the St. Louis Metropolitan Area have earned many accolades and recognitions for being pro-business!
Top 10 for Pro-business States, Pollina Corporate
Third for business energy costs, Small Business and Entrepreneurship Council
14th lowest state for cost of living, Missouri Economic Research and Information Center
"One of the Best Cities to do Business," MarketWatch
23rd Best Place for Business and Careers in the U.S. by Forbes magazine
Third for most affordable housing among the top 20 metropolitan areas, NA HB/Wells Fargo Housing Opportunity Index, 4th quarter
Named #2 in the State of Missouri for Job Growth
The City of O'Fallon takes pride in fostering a pro-business atmosphere, working in concert with our manufacturers, retailers and service providers. Whether your business is well-established or brand new, O'Fallon's Economic Development Department can help you get your plans off the drawing board and your projects up and running.
---
Quality of Life
With the philosophy of "family first," the City of O'Fallon, Missouri, has achieved phenomenal growth for over a decade, making it one of the fastest-growing cities in the nation. The belief that the opportunity to live, work and play within the same community should be readily available supports the strong family values that are O'Fallon's greatest asset and the foundation on which the City continues to build its future.
O'Fallon continues to receive national accolades for being one of America's "Best Places to Live." From 2007–2011, Relocate-America.com has consistently recognized O'Fallon as one of America's "Top 100" cities. In addition, the City has been named one of America's "Best Places to Live" (Money magazine, 2006-2019) and one of America's safest cities (CQ Press).
Nearly 1,850 businesses call O'Fallon home, satisfying the tastes and styles of almost everyone.
Shopping and dining experiences range from large retail chains to small independent businesses located along the following main corridors: Bryan Road, Highway K, Main Street, Tom Ginnever, WingHaven and the I-64 high tech corridor.
O'Fallon is rooted in community tradition through its numerous attractions and events including the 9/11 Memorials, Veterans Memorial Walk, Heritage & Freedom Fest, Fall Into the Arts, Founders' Day and Celebration of Lights.
More than 450 acres of parks are located throughout the City offering a wide array of sporting and cultural activities throughout the year for all ages.
Recreational facilities include the City's own Renaud Center (indoor recreation complex), Alligator's Creek Aquatic Center, T.R. Hughes Ballpark and the O'Fallon Family YMCA.
Public infrastructure continues to be a significant City focus, with millions budgeted for the street and road improvement fund for infrastructure improvements and maintenance.
O'Fallon's Police Department serves and protects the citizens and businesses of O'Fallon, helping to ensure one of the lowest crime rates in the region.
---
Ready to build or re-locate your business in O'Fallon, Missouri? Our popular guides paired with helpful assistance from City staff will ease you through the process. Choose a guide to get started.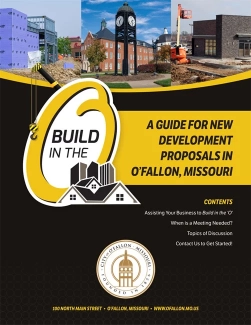 Looking to build a new development in O'Fallon? Start with this step-by-step guide.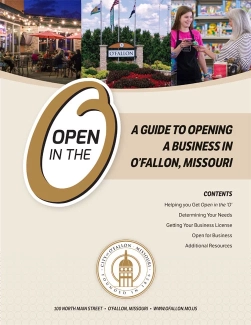 Planning to occupy an existing space or taking over a business? Then, this is your guide.