Recycling
Residents can recycle paper and cardboard 24/7 at three City of O'Fallon locations: City Hall overflow parking lot, the Renaud Center and the O'Fallon Justice Center. Please be aware, the City Hall location moved permanantly to the overflow parking lot at 101 Sonderen Street at the beginning of 2022.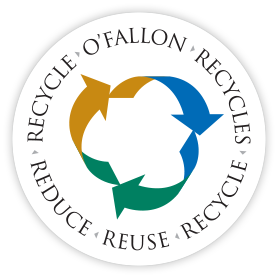 The recycling industry changed significantly in 2018, and it is now impacting cities around the world, especially communities like O'Fallon, who used to be "single stream" recyclers. China, which had been the world's largest importer of recyclables, no longer allows single stream recyclable materials from the United States. O'Fallon was forced to change our program in order to continue recycling in our City.
Your cooperation is required in order to help us maintain our affordable rates.
The City of O'Fallon is partnered with the City of St. Peters for recycling. Here is what you need to know about O'Fallon's recycling program:
---
Paper and cardboard recycling drop-off locations
Click on a location to reveal its street address and a detailed location map

---
Items for curbside pickup recycling
O'Fallon's curbside recycling program only picks up the following items in your recycling cart:
Glass bottles and jars
Aluminum cans
Tin cans
Plastic containers (clear or colored) with a recycle symbol on them (no black plastic, #4 or #6 please)
All materials must be EMPTY, CLEAN and DRY or they will not be accepted/recycled!
Please do not bag your recycling!
When in doubt, throw it out! The items listed in the this section are the only items that may be recycled curbside. As much as we might want everything to be recyclable, many things are not. In fact, making too many mistakes can cause even the good materials to go to the landfills. Instead of "wishful recycling," if you are not sure about something, let it go to the landfill to avoid contamination.
---
Items for drop-off recycling

not allowed for curbside pickup
Paper and cardboard are accepted at all of our drop-off locations (listed above). Recyclable items include:
Paper and cardboard will be collected for recycling at 24/7 at the City Hall overflow parking lot, Renaud Center and O'Fallon Justice Center.
Acceptable paper products include:

Newspapers, inserts and magazines
Telephone books
Books (both hard and soft cover)
Computer paper
Junk mail
Brown grocery bags

Flattened and broken down corrugated cardboard boxes, small pieces of cardboard and pressed fiber (such as cereal boxes, shoe boxes and tissue boxes) will be accepted too, but these items must be kept separate from other paper products. Please note: Cardboard boxes must be broken down!
---
Frequently Asked Questions