Art Gallery Exhibitions
The Cultural Arts Program proudly welcomes all people to explore and experience art and creativity at three O'Fallon art galleries. Each gallery features talented local and regional artists. Admission is always free.
---
City Hall Gallery
100 North Main Street, O'Fallon, Missouri 63366
The public is invited to view art exhibits at O'Fallon Municipal Centre (City Hall) during regular business hours.
---
Jacob Janes
September – December
Medium: Painting
Jacob Janes is a painter living in St. Louis. He is a lifelong wrestler, returned Peace Corps Volunteer, and mediocre skateboarder. Prior to earning his MFA from Marywood University, he also studied fine art at Lindenwood University and Mount Gretna School of Art. His paintings are figurative poems; playful, simplistic abstractions of common subjects, born from a sense of necessity. This is an aesthetic experience. I hope to share this with as many people as possible. It is a privilege to live with artwork which offers this type of experience daily. Artwork can define a living space and endlessly offer a refreshing and healthy perspective. This is my hope for my own paintings, whether in private collections, galleries, or museums.
---
Krekel Civic Center Gallery
305 Civic Park Dr, O'Fallon, MO
The public is invited to view art exhibits at Krekel Civic Center during events held at the venue.
---
Edward Engel

September – December
Medium: Digital
In the world where art and music come together, I discover my creative voice in the harmony + intersection of ideas. My work explores the intricate connection between what you hear and what you see. I passionately seek to blend the worlds of sound and sight, breaking the traditional boundaries of art and music. Each piece I create is a careful fusion of auditory and visual elements. I begin by immersing myself in the music, dissecting its melodies, rhythms, and emotions. This deep dive inspires the ideas behind my visual creations, like translating music into a visual language. I choose every image, photo, and typeface to reflect + enhance the music's essence.

---
Renaud Center Gallery
2650 Tri Sports Circle, O'Fallon, Missouri 63368
The public is invited to view art exhibits at the Renaud Center during regular business hours.
---
Courtney Flamm

September – December
Medium: Graphite

As an artist, I find endless inspiration in exploring the intricacies of the human experience through portraiture. By using people from my own life as models, I am able to create personal works that resonate deeply with myself and my subjects. Each individual brings their unique personality and experiences to the table, and it is my job to capture how I interpret these nuances and bring them to paper. My ultimate goal as an artist is to pay homage to the rich history of iconic works of art, while also appreciating the experiences that make us human. Through these works, I hope to invite viewers to consider the many layers of human experience and reflect upon the ways in which we are all separate and connected as people.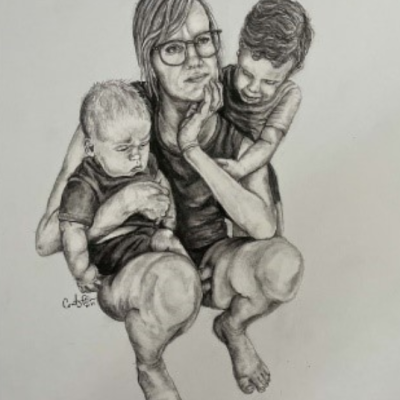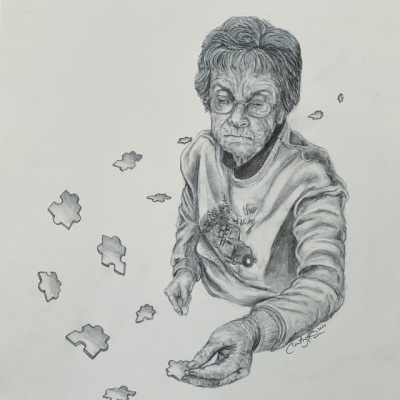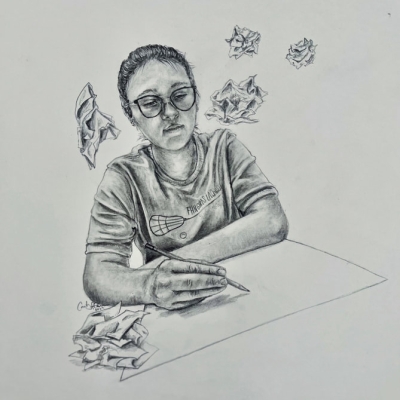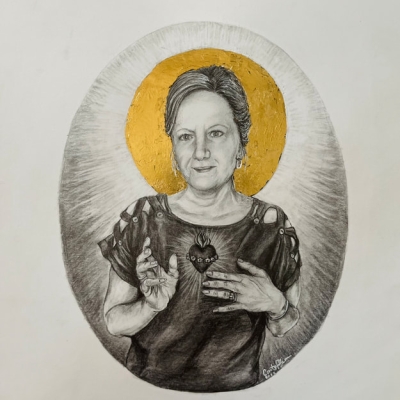 ---