Rotating Sculpture Series
The City of O'Fallon, Missouri's, rotating sculpture series, The Shape of Community is a citywide, temporary sculpture exhibition, featuring large-scale works of art in prominent areas throughout the city, loaned by artists for an 18-month period. This exhibition is unique to the entire St. Louis metropolitan area, and attracts people to visit sculpture sites throughout the city. The ten selected sculptures are presently displayed at City of O'Fallon properties.
The 2020/2021 series received dozens of entries from all corners of the United States. The City of O'Fallon's Cultural Arts Commission then narrowed those submissions to the 10 large-scale sculptures found on this page.
---
2020/2021 Sculpture Installations
Pangolin Curl
Art is a soul freeing therapy that improves the quality of my life and prevents stagnation. What's most important to me is expressing my emotions in a way that communicates the organic and visual sensations. As I have my own way of creating, I try to ignore the disturbing, stereotypical, suburbia of art and how it can make the general public viewer feel uneasy. Instead, my work tends to focus on humans collectively. With hope of unlocking the viewers inner creativity, my work tends to reflect the flawed characteristics of humans. Although flaws can be a part of imperfection, I also try to express how human flaws are also beautiful in some way, shape, or form.
---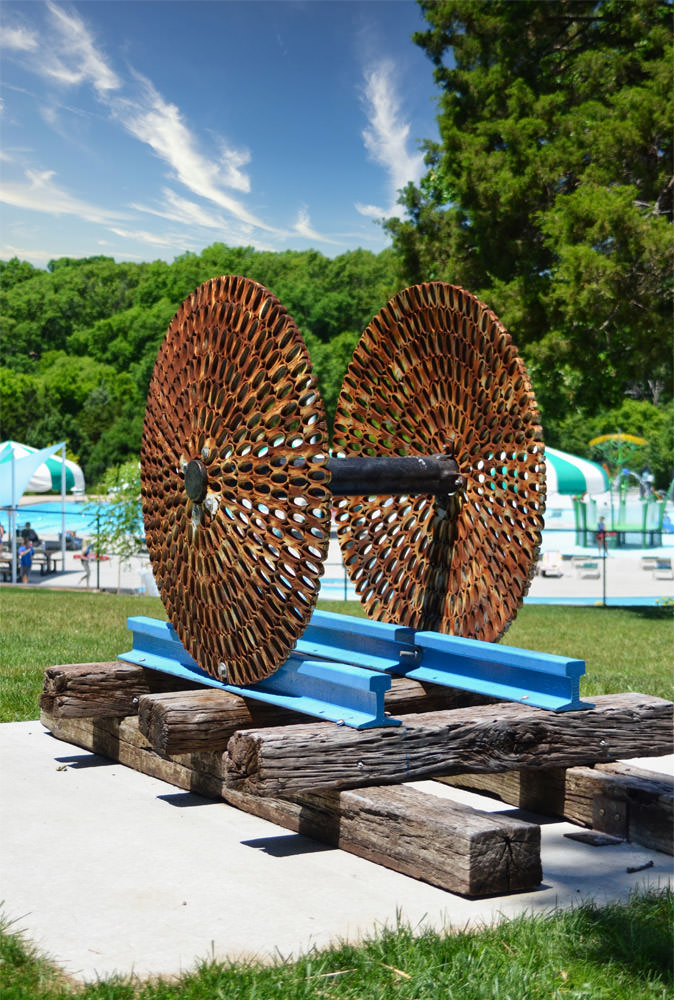 Blue Rail
Artist: David Lobdell
Location: Civic Park
Lobdell's sculpture deals with communication and he is engaged in a complex investigation of language through a blending of historical sources, both ancient and modern. Binary code forms the conceptual skeleton of the digital age and Lobdell has playfully investigated inherent verbal analogies through both the literal sculpting of human skeletons along with describing the movement of binary code through space. Vortexes, Euclidean planes, streaming lines of code and spiritual mandalas are formed from the basic building blocks of zeroes and ones.
---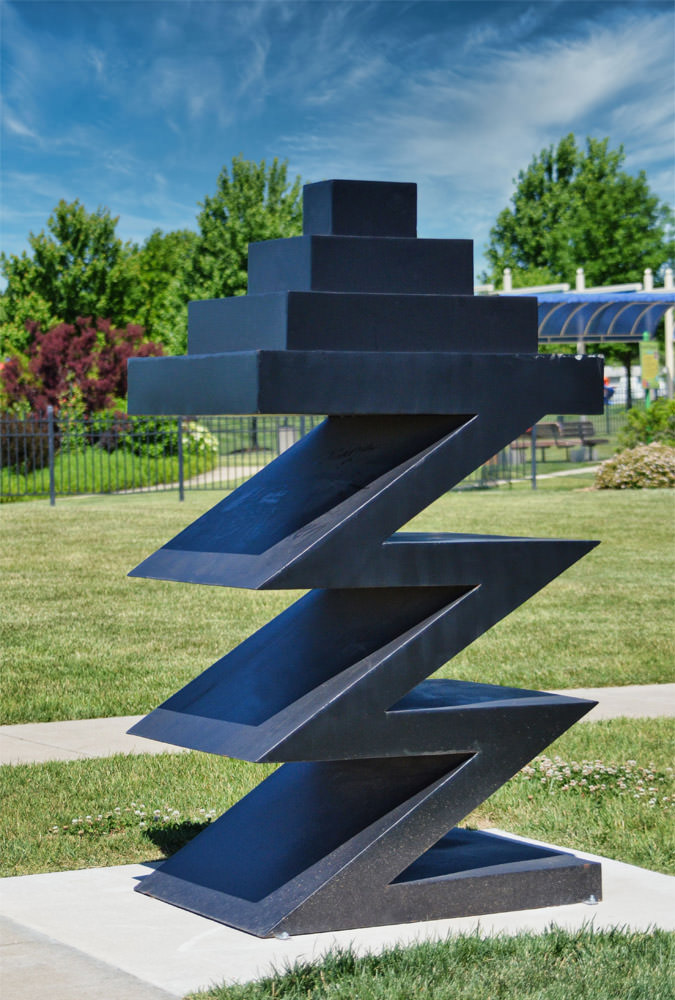 Zig Zag Ziggurat
Artist: Michael Quintero
Location: Westhoff Park
I don't believe that aliens built the pyramids, but the metaphor of aliens building such monuments captures my imagination. It seems to me that humans arrive on this planet as visitors, perpetually struggling to figure out what it means to be "human". We are truly the aliens of our own world.
Michael Quintero was born in Okinawa, Japan in 1967 and emigrated to Texas in 1973. His father served over 20 in the United States Army and his brother recently retired as a helicopter polit for the United States Army after 20 years of service. He began his art studies at Bee County College in 1985 and earned his Bachelor of Fine Arts degree from Corpus Christi State University in 1989. He graduated with the Master of Fine Arts degree with a concentration in sculpture from the University of North Carolina at Greensboro in 1991. He has taught in various institutions and is currently a faculty member of the Art Department at St. Louis Community College, Florissant Valley.
His art is inspired by the art and architecture of ancient worlds, Buddhist concepts and imagery, and nature.
---
House Reflected on Endless Column
Artist: Mathew Eaton
Location: Sports Park
The archetypal image of a house, singly or echoed by multiple houses, is the dominant motif within my current body of work. An archetype is defined as a collectively inherited unconscious idea, pattern of thought, or image that is universally present in individual psyches. The rectangular house form with a pitched roof is the image/representation of a house that has resurfaced throughout my work; it is both elementary and an idealized. The stylized form of a house is one that which the viewer can instantly, and instinctively connect. Houses Reflected on an Endless Column for me is a work that reflects my own experiences with the idea of home, family and life. The Endless Column element of the sculpture is a nod to Brancusi. Brancusi's Endless Column symbolizes infinity and infinite sacrifice. Houses Reflected on an Endless Column is about the sacrifices and choices we make in our lives, and how we reflect on our path to better our experience.
---
Solitude of the Journey
Artist: Jeremy Colbert
Location: Dames Park
"Solitude of the Journey" has a base that represents the thunderbird track, which means bright prospects. It continues into two diving fish that symbol instinct, and determination. The two fish are a team making their way through the journey and at times must dive deep to survive the hardships. Above is canoe or boat form that is a vessel for safe crossing from one side to the other. It is inlaid with stainless steel that is symbolic of running water and a consistent life. This is important to the growth of all life and our connection to the earth. Up top of "Solitude of the Journey" sits a lone crane drying his wings in the sun. The crane represents independence and the potential of good things to come. This piece is reflective of many tribal images and animals that come from Native American cultures across the country.
---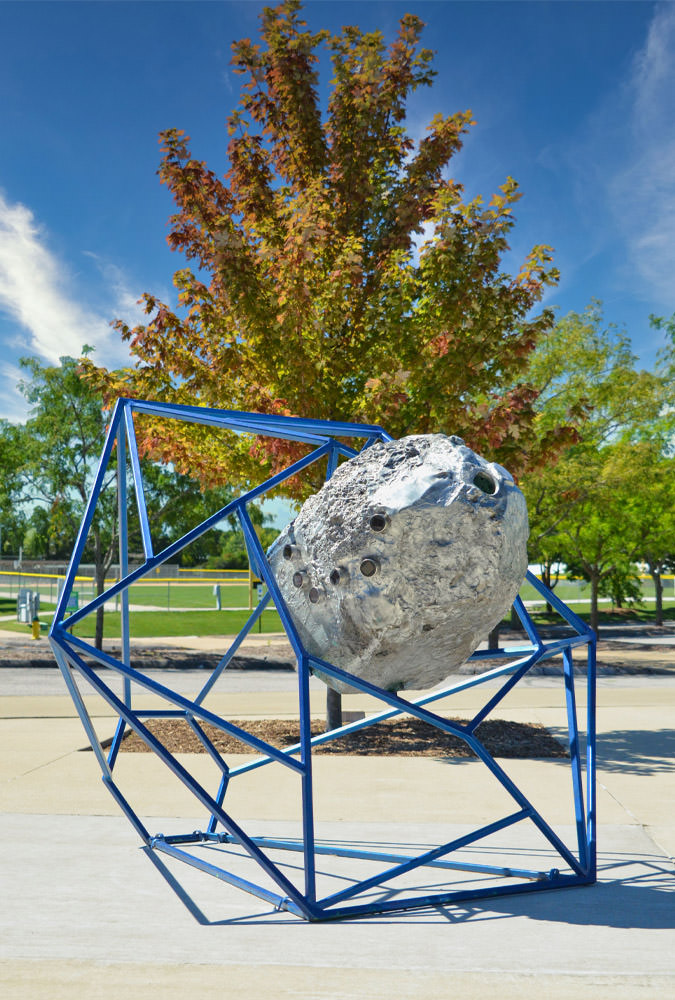 Sky Diamond
Internationally recognized for working in cast metal from large scale sculpture to ephemeral works about process, her work celebrates the wonderment and majesty related to the forces of nature. She is Professor of Sculpture at Alfred University where she is also the Director of the National Casting Center Foundry since 2007.
My objective is to create an experience that resonates with the viewer in a physical and mindful way. Through this lens I invite a dialog with the public to develop their own interpretations about materials, resources and natural phenomena.
---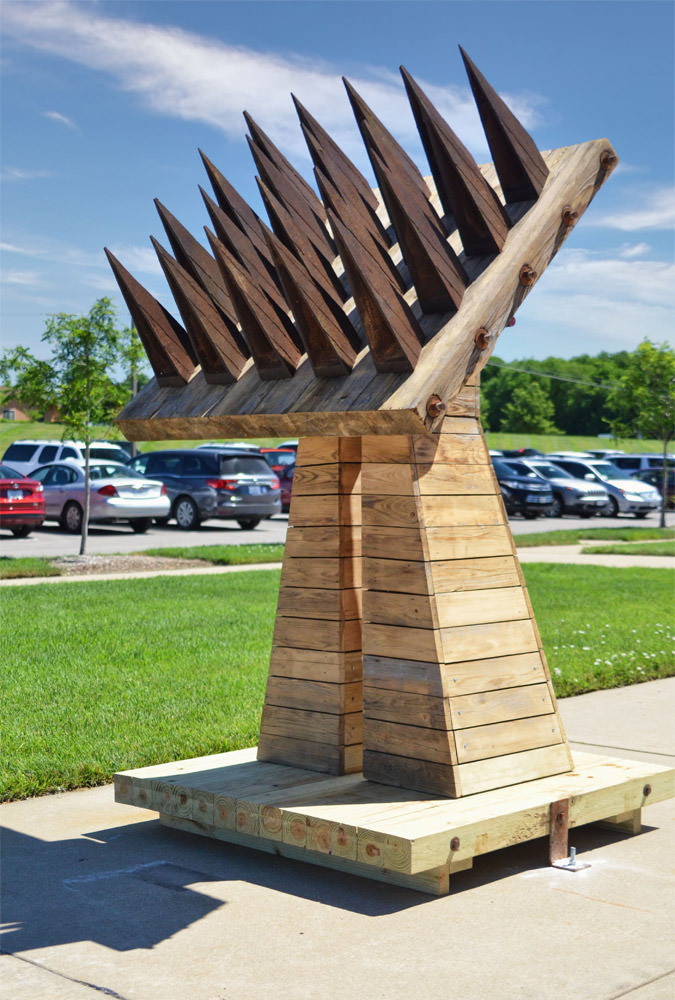 Sensor Device II
Currently, Dyrhaug's sculptures and drawings employ agricultural and nautical imagery taken from his experiences living in Southeast Texas. His recent work recalls the mechanical forms and functions of elements from industry, presenting iconic images with new associations and meanings. Reconstructing these familiar forms holds the poten­tial for creating several applications and interpretations with the relationship of materials and scale.
---
In the Room
Artist: Kelly Ludeking
Location: O'Day Park
"In the Room" is the material manifestation of my ruminations on the movement of family farming toward industrial agriculture, a transition I experienced firsthand growing up on the Ludeking farm in Iowa.
This sculpture was created largely with discarded symbols of the farming and fueling businesses. The bulk of the elephant's head is a combine corn head, an imperative piece of equipment to harvest corn. The body contains a fuel tank, something most family farmers had on site to refuel their tractors. There are semi-tractor parts scattered throughout the sculpture to represent the global transportation of what the collaboration of our earth & people have produced. Having been raised within the endangered family farm culture, I reflect on my upbringing often, realizing how government subsidies & interests influenced so many aspects of our lives. The elephant in the room explores the ambiguity of collaboration versus exploitation where familial and planetary resources are considered.
---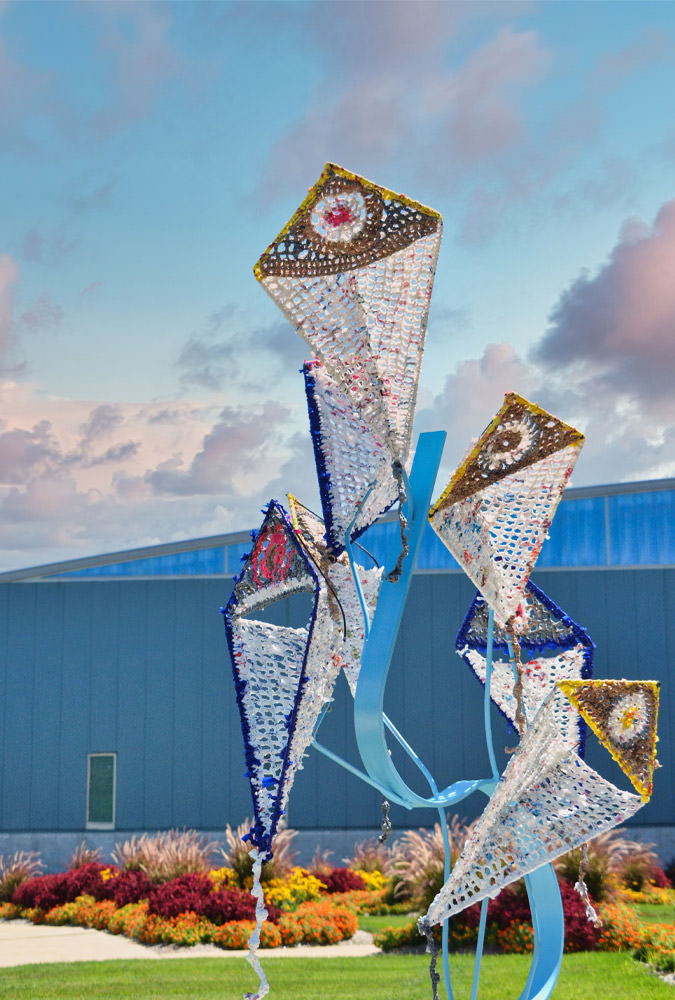 Kites III
Artist: Cat Chiu Phillips
Location: Renaud Center
"Kites III" is an outdoor kinetic "upcycle" sculpture which depicts a play between natural and synthetic elements. Specifically, for this project, discarded plastic grocery bags (plarn) are hand crocheted on to welded kite frames. The sculpture is enabled to swivel in the wind, allowing viewers to see the work in new way for each encounter.
The upcycle art movement is an extension of environmental awareness. Many artists are finding ways to extend the life of their consumption. Cat Phillips combines one of the larges discarded materials in the world, plastic bags, and crocheted. Utilizing the tradition craft of crocheted with the imaginative concepts of contemporary sculpture Cat Phillips brings to us her internationally exhibited works. Her message of upcycling and recycling are designed to encourage a social change in our outlook of consumable products.
---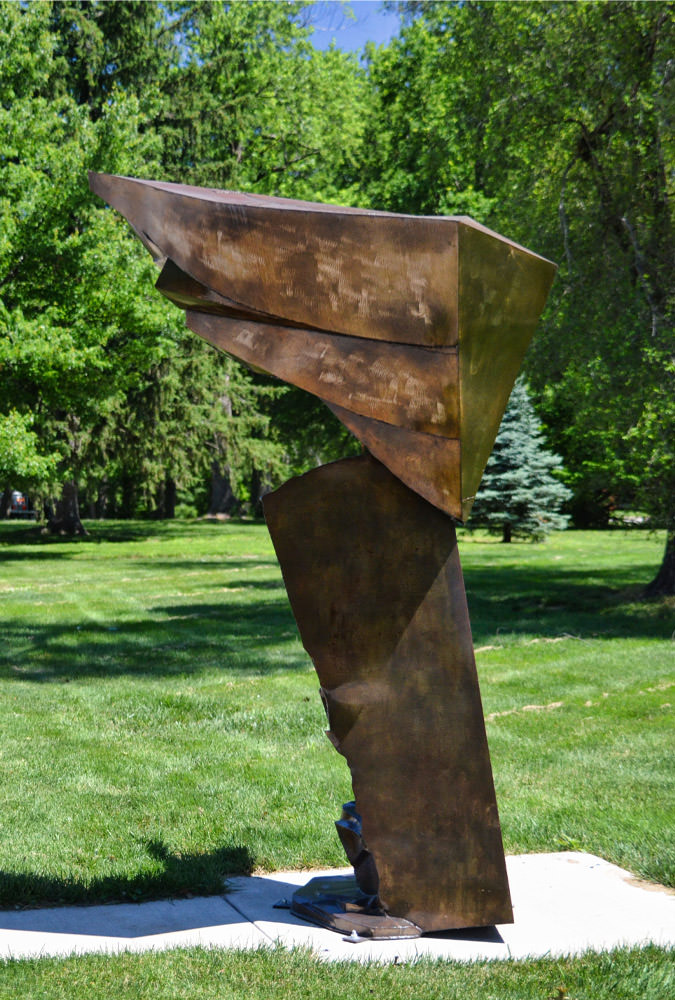 Victoria
Artist: Chris Wubbena
Location: O'Fallon Municipal Centre (City Hall)
Victoria is Latin root for victory. Victory or the showing of supremacy has been a common element utilized through out art history. We have strong historical imagery to hold us to the history of the term Victory. From "Winged Victory of Samothrace" to concurring empowers adorned in the halls of Rome and even the great master painter Jacques-Louis David create imagery of "Napoleon Crossing the Alps". Victoria is embedded into our art history and Chris Wubbena creates a master piece to share with our community.
The concepts and forms that make up Wubbena's artwork generate from an interest in reconsideration and reinvention of historical and contemporary issues.  Through an assortment of media, he creates artwork that compiles and preserves information into layered, stacked, and eroded forms and surfaces. The finished product most often references the link between geology, history, and everyday life, such as social stratification, political fissures, historical sedimentation, or environmental erosion.  In the end, the artwork he creates is an amalgamation of authored landmarks and artifacts that investigate our shared contemporary existence as it sits atop a world of accumulated beliefs, traditions, and misconceptions.
---
Plan a route to see the sculptures
Hover over the plus symbol to reveal a sculpture.
---
Contact Cultural Arts staff