Tuesdays, June through August
6:30–9 p.m., Civic Park Bandstand
Join us for free concerts on select Tuesday evenings this summer! Admission and parking are free. Food trucks and concessions will be available at nominal prices. Bring chairs or blankets for seating, and enjoy the evening.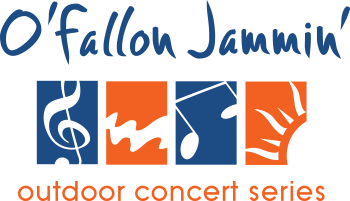 2021 Concert Calendar
Please note, food trucks and concessions may be subject to change without notice. You're encouraged to follow Visit O'Fallon on Facebook or Twitter (@Visit_OFallon) for the most recent updates.
Lawn Seating at the Civic Park Bandstand
Starting June 1, O'Fallon's free outdoor summer concert series returns to the bandstand at Civic Park. O'Fallon Jammin' encourages all concert-goers to practice social distancing.
That 80's Band


Hits from the '80s

Food trucks and concessions:

Rendezvous Cafe & Wine Bar
Angie Burger
Blues Fired Pizza
Kona Ice
Udderly Moolicious

On The Fence


Rock Hits

Food trucks and concessions:

Rendezvous Cafe & Wine Bar
Doughboys Wood Fired Pizza
Sugarfire
Kona Ice
Udderly Moolicious

Dawson Hollow


Indie Folk-rock

Food trucks and concessions:

Rendezvous Cafe & Wine Bar
Savor the Southwest
SNS Goodies
Kona Ice
Udderly Moolicious

Wildfire


Country hits

Food trucks and concessions:

Rendezvous Cafe & Wine Bar
Wayno's International Cuisine
Wingnut
Kona Ice
Udderly Moolicious

FanFare


R&B, classic rock, disco & pop

Food trucks and concessions:

Rendezvous Cafe & Wine Bar
SNS Goodies
Angie Burger
Kona Ice
Udderly Moolicious

Power Play


New age, Motown, R&B, rock & funk

Food trucks and concessions:

Rendezvous Cafe & Wine Bar
Moving Munchies
Doughboys Wood Fired Pizza
Udderly Moolicious

Trixie Delight


Hits from the '70s, '80s, '90s & now

Food trucks and concessions:

Rendezvous Cafe & Wine Bar
Sugarfire
Savor the Southwest
Udderly Moolicious

Big Rain


Current hits, pop, rock & alternative

Food trucks and concessions:

Rendezvous Cafe & Wine Bar
Blues Fired Pizza
SNS Goodies
Udderly Moolicious

Butchwax & The Hollywoods


'60s & '70s hits

Food trucks and concessions:

Rendezvous Cafe & Wine Bar
Wayno's International Cuisine
Moving Munchies
Udderly Moolicious

Whiskey Morning


Danceable country jams

Food trucks and concessions:

Rendezvous Cafe & Wine Barg
Angie Burger
Doughboys Wood Fired Pizza
Udderly Moolicious

Practice social distancing by keeping at least 6' between your party and others

Face masks are suggested (but not required)

Wash your hands with soap and water often for at least 20 seconds

Use hand sanitizer if you cannot wash your hands (sanitizer stations are available)

If you are not feeling well, please return home
---
Plan a route to O'Fallon Jammin at Civic Park
308 Civic Park Drive, O'Fallon, MO 63366