Whether you're celebrating a milestone moment or planning a soirée or a seminar, events of all kinds feel equally at home at Krekel Civic Center. Just minutes north of I-70 in the heart of downtown O'Fallon, this premier community center is a modern venue situated in charming Civic Park. Krekel Civic Center is built to impress, and you and your guests will quickly discover this venue's beauty is more than skin deep.
Step inside, and see how every aspect of this unique center has been carefully curated to let your event shine. No detail has been overlooked, from the striking dark wood flooring, dramatic natural lighting, state-of-the-art A/V equipment, and complimentary table and chair setup. And with up to 3,300 square feet of space available for full- and half-day reservations, this adaptable venue ensures you're booking a space that suits your needs at an affordable rate.
Your event is one-of-a-kind; why should your venue be any different? Make a grand impression with Krekel Civic Center.
Click on a category to reveal additional photos.
---
Reservations made easy!
Reserve your event at Krekel Civic Center in 3 steps!
Digitally submit your paperwork to hold your date The paperwork that must be submitted includes the rental application and contract.

Pay the reservation fees in full to finalize your reservation Payment is due two days after the initial hold. To pay the reservation fees, please call 636-474-2732 or go in-person to the Renaud Center, 2650 Tri Sports Circle.
Weekend Reservation Rates
Weekend rates apply to Friday through Sunday.
Reserve all of Krekel Civic Center
Reserve Multi-Purpose Room 3
Includes access to the caterer's warming kitchen
Reserve Multi-Purpose Room 1 or 2
---
Tour the Venue
Take a closer look at Krekel Civic Center to see if it fits your needs.
Book an in-person guided tour
Events become extraordinary at our modern and spacious venue. Reserve a guided tour to see how Krekel Civic Center can make your occasion unforgettable. Tours are free and last approximately 30 minutes.
---
Venue Diagram & Room Dimensions
O'Day Lodge room dimensions are approximately 75' x 40' for the entire space, or 25' x 40' for each multi-purpose room (MPR).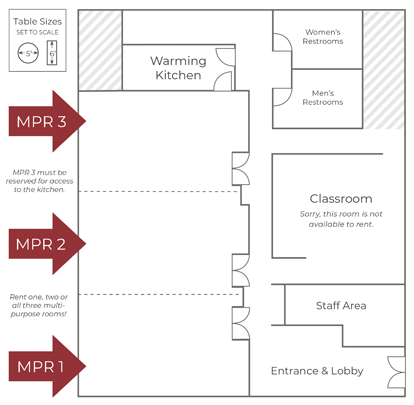 Download or print an enlarged version (PDF)
---
Frequently Asked Questions
If you have additional questions, please contact us directly at reservations@ofallon.mo.us.
---
Plan a route to Krekel Civic Center
305 Civic Park Drive, O'Fallon, MO 63366